Who doesn't love a fresh home grown salad? You could be dining on five tasty vegetables that you can grow in less than a month. Here's my list with all the details and links where you can purchase the seeds to get started right away.
First on the list is Salanova Green Sweet Crisp Lettuce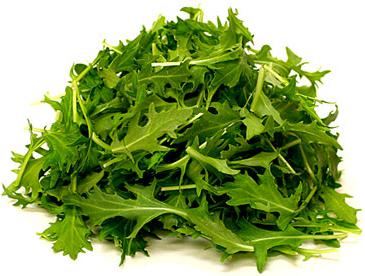 Sweet flavor and crunchy, crisp, succulent leaves. Leaves are medium-dark green with a very defined, three-dimensional shape. Sweet, almost romaine-like flavor, with a crisp, almost iceberg-like, texture.
Lettuce is hardy and can be planted as early as the soil can be worked. It is a cool weather crop and grows best at temperatures of 60–65°F (15.5–18.3°C). Careful variety selection is important for hot weather plantings. Sow every 3 weeks for a continuous supply of fresh lettuce. Performs best with consistent, moderate soil moisture throughout the germination period.
For full-size heads in mild temperatures from direct seeding; subtract 10-14 days if transplanting. Note: Maturity can be 3 or more weeks later in cool weather, and up to 1 week earlier in hot weather. Click here to buy seeds from Johnny's Seeds.
Next Up Are Organic Asian Mizuna Greens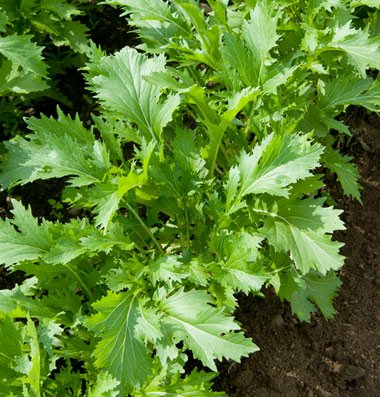 Mizuna is an oriental vegetable distinguished by its elegant leafy look and attractive deep green color. It is the young leaves that taste best when used in a salad
Broad leaves make for easy bunching. Similar to standard mizuna, but the attractive, finely-divided leaves are bulkier and less deeply cut. Grows well in warm and cool conditions. Mild flavor.
Ready to eat in 21 days baby or 40 for full maturity. You'll get a guaranteed germination rate of 80%.
Mizuna greens are packed with vitamin C, iron, folate and contain powerful antioxidants known as glucosinolates.
Seeds are from Davids Garden Seeds and purchased through Amazon. Davids Garden Seeds is a Veteran owned business that has been providing quality seeds since 2009.
Here's a link to Amazon to purchase mizuna seeds.
My Third Recommendation is Red Kitten Spinach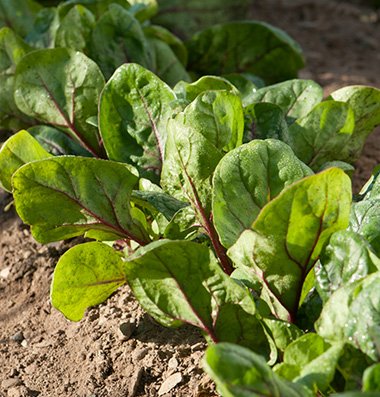 Beautiful red veined variety that makes for an eye-appealing super healthy salad. Grow for baby leaf production in the early spring or full-size bunching in the fall and winter.
Clip small leaves in 21 to 28 days, depending on time of year and speed of growth for wholesome nutritional, antioxidants and anti-cancer benefits.
100 grams of spinach contains about 25% of daily intake of iron; one of the richest among green leafy vegetables. Iron is required by the human body for red blood cell production. It's a rich source of several vital anti-oxidant vitamins like vitamin A, vitamin C, and flavonoid poly phenolic antioxidants.
As an excellent source of vitamin K. Vitamin K plays a vital role in strengthening the bone mass by promoting bone building activity.
This green leafy vegetable also contains good amounts of many B-complex vitamins such as vitamin-B6, vitamin B-1, riboflavin, folates and niacin.
Here's a link to get Red Kitten seeds from Amazon.
Recommendation #4 Is Organic Cherry Belle Radishes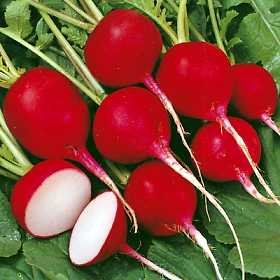 Plant about every two weeks for a continuous harvest. Cherry Belle is a round, crunchy, crisp bright cherry red radish with an outstanding flavor. Originally from Holland, it was created to do well in mucky clay soils, but grows extremely well in most soils.
Great in salads and stores for weeks in the fridge. Plant about every two weeks for a continuous harvest. Pull spring radishes when they are the desired size, about 25 days after planting. If you wait too long to harvest they will become pithy. Push back the soil to see if they have formed bulbs, and taste one or two to see if they are ready. Finish harvesting before warm weather comes.
The fiber, vitamins and minerals within radishes make sure they are a brilliant option for cardio health. They've been proven to reduce cholesterol levels, control diabetic issues as well as control blood pressure level as well as blood glucose levels.
Rich in fiber and cancer-fighting antioxidants radishes have good qualities as a digestive tonic or to clear the sinuses and ease sore throats. Anti-microbial properties make them a detoxifier in traditional medicine. Don't discard the tops, as they are even denser with nutrients.
Here's a link from Amazon for Cherry Belle radish seeds.
The 5th Salad Topper is Speckled Snow Pea Shoots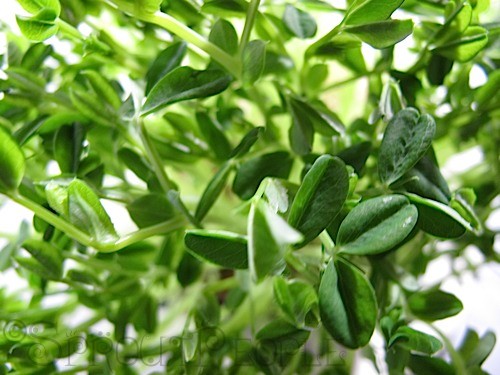 Certified organic Non-GMO sprouting seeds. These seeds grow terrific pea shoots.
Extra high in taste – beware, they may become your favorite mild tasting sprout that is easily digested and great for juicing.
Rady to eat 10 days. They produce a tall shoot with leaves. Cut above the pea-line. Also Great in raw sprouted soups, on your favorite sandwich or stir-fried quickly with some garlic and soy sauce.
Nutritional benefits include Vitamins A, B, C and E. Calcium, Chlorophyll,
Iron, Magnesium, Niacin, Phosphorus, Potassium and Amino Acids.
Seeds for sprouting are available from Amazon.